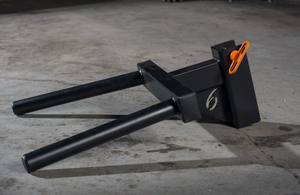 You asked, we listened! Introducing the TS Dip Bar to fit on any of our TS model racks. This heavy gauge accessory is great for blasting your triceps increasing your overall power of any upper body compound movement.
Specs:
1.9" OD x .145 wall round bar construction which sits comfortably on your palms.
Tapered design to for all around comfort.
3x2x11ga tubing to support the shear force of the exercise.
Signature "6" laser cut logo on gusset plate.
Signature Squat6Stands textured black powdercoat.
HDPE protection to protect the front face of the upright.
Orange handled 5/8" detent pin to secure the accessory.
Fits any 3x3 rack construction with 5/8" holes.
Black finishing caps
Squat6Stands recommends to only use the dip bar with pull up bar attached on a squat stand. Please ensure the consumer is working inside the footprint of the stand if the unit is not floor mounted.